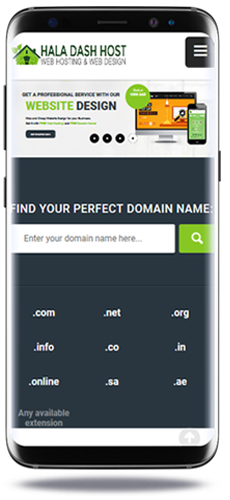 Why You Should Have a Website For Your Business?
In the digital landscape of today's business world every company needs a website, regardless of its purpose because it is a great piece of marketing material to generate more calls, more business, and then new customers, it will work like your virtual salesman. We help you at HALA DASH HOST to have the perfect design that will not only look great, but also meet your needs and achieve your goals. Start immediately designing your website to gain new customers who are looking for your products and services.
Modern Designs
We always trying to give you perfect and nice design which reflects your business in a creative way.
Responsive Design
We build your responsive website that look beautiful across all devices, including smartphones and tablets.
Free Update For Applications
We keep our tools and applications updated to add more efficiency and to protect your website.
Reliability, Speed and Security
All our designs are reliable, fast in browsing, and strong in security.
Clear Design to be Easier
Most of our designs are easy to make it accepted for the end user.
Free Support For a Limited Time
In all quotations we are giving a free of charge period to finish all customer's requirements.
Create just the right website for your Business!!
We create your amazing website Our Websites designs
EASY TO BROWSE – to be flexible and friendly to your users.
PROFESSIONAL DESIGNS – media, photo galleries, blogs.
MULTIPLE LANGUAGES – to access your customer worldwide

Starting From 1000 SAR only.
Expand your business with Commercial Website
GET MORE CUSTOMERS with built-in SEO tools.
GET MORE MONEY with 24/7/365 virtual salesman.
SAVE MONEY with free hosting and free domain.

Starting From 1000 SAR only.